2 minute read
SAN DIEGO — Sept 11, 2019
Accel-RF Instruments Corporation, the worldwide leader in turn-key reliability and performance characterization test systems for compound semiconductors, announces shipment of their 5G Ka-band AARTS life-test reliability system. The push for 5G platform development and performance benchmark testing of millimeter-wave technology has the semiconductor field racing for faster time-to-market product rollout.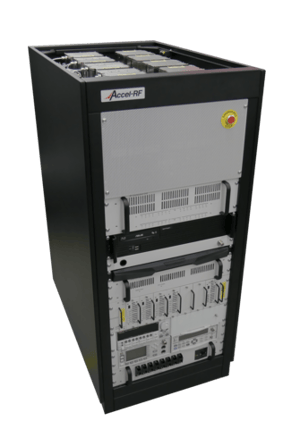 Accel-RF's new Ka-Band AARTS RF Testing System covers the majority of the 5G market with 26GHz to 33GHz input frequency and with an extended RF performance capability to 38GHz. Additionally, the system is standard with device under test input power drive of 27 dBm or 500 milliwatts. System device output power capability is standard at 37 dBm or 5 watts with an extended capability of up to 43 dBm or 20 watts. Accel-RF's heritage and industry leading temperature performance is embedded in the AARTS Ka-Band system platform. The test device baseplate is capable to be set at temperatures exceeding 250OC. This allows performance degradation and accelerated life tests to be carried out at channel/junction temperatures at 300OC to 400OC depending on the device power dissipation. Testing at these temperatures allows equivalently 20 years of life to be observed in a few months.
Accurate high-temperature controlled testing of RF devices at mmW frequencies is quite a challenge. Maintaining good RF transmission performance into and out of the Device Under Test is critical for proper lifetime statistical evaluation. Accel-RF has leveraged its nearly 30-year heritage to provide a robust solution that provides the performance, accuracy, and stability required for proper DC, RF, and Thermal stimulus.
Roland Shaw, president of Accel-RF, reported, "The shift in personal communications, gaming, and basically all data and video streaming transmission will be implanted in the realization of the 5G millimeter wave deployment in the early years of the next decade. Accel-RF is enabling this revolution by making it possible for the semiconductor technology developers and system visionaries to validate early adoption with measured test results of the reliability and performance degradation metrics of the technology." Mr. Shaw concluded, "It will be the application-specific demonstration of the semiconductor technology reliability and performance degradation that will merit the timetable of launching the true next generation 5G network that will empower the connected world of tomorrow."
Preliminary information is available on the Accel-RF website, www.accelrf.com and inquiries for detailed technical information or price and delivery estimates are available by contacting sales@accelrf.com.
About Accel-RF
Accel-RF Corporation is a closely-held private corporation located in San Diego, California. The company specializes in the development, design, and production of accelerated life-test/burn-in test systems for semiconductor devices. These systems are turn-key integrated instruments that provide a cost-effective and high-value proposition for manufacturers, fabless designers, testing-service providers, original equipment manufacturers, system integrators, and research and development laboratories requiring intrinsic reliability identification, process-control validation, specification standard-deviation characterization, and product qualification testing.

Contacts
Accel-RF Corporation
Hannah Going, 858-278-2074
hgoing@accelrf.com
www.accelrf.com